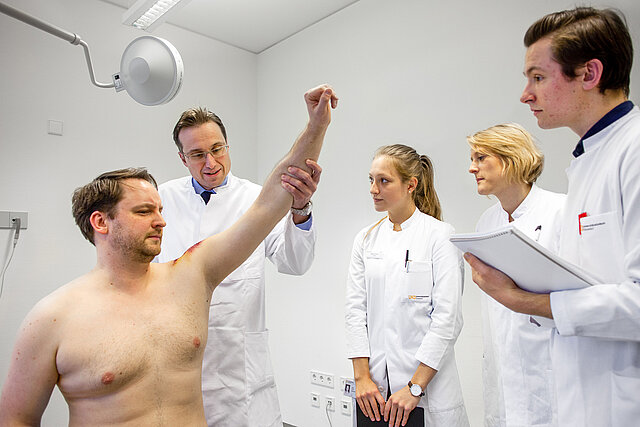 A sound practical training is an essential part of the medical studies in Düsseldorf. Practical training begins in the first semester, and the proportion of practical training increases steadily over the course of the program. With the start of the practice modules in the third year of study, clinical practice already accounts for a quarter of the teaching time. In the fourth and fifth years of study, we even increase the practical portion to about half of the teaching time. In the practice modules, teaching takes place on the wards and in the outpatient departments as training directly with patients.
Students spend weeks at a time in a number of clinics of the University Hospital Düsseldorf (UKD) and academic teaching hospitals. They are involved in the daily processes on the wards and in outpatient departments. The focus here is on structured, clinical-practical training and the integration of theory in practice.
The practice module and their teaching/learning formats
In the practice module, twelve teaching hours are reserved each week for Bedside Teaching and Mini-CEX, eight teaching hours for History, Examination and Case Presentation, and four teaching hours for case conferences Case Conferences (as part of "Learning on Patient's Complaints"), as well as four teaching hours for the Elective Curriculum.
By the end of Year 5, students will complete a total of at least 65 patient admissions and presentations in the ward/outpatient clinic, 10 patient presentations in case conferences, and 12 mini-CEX. The (ungraded) performances are a component for the Assessment "Internal Medicine" as Medical Competencies 1 and for the Assessment "Emergency Medicine" as Medical Competencies 2 . The collected documents are usually presented to the Office of the Vice Dean for Teaching and Study Quality at the end of the 5th year of study.