We are pleased that you are interested in studying medicine with us at Heinrich Heine University! Here you can learn more about the "Düsseldorf Curriculum of Medicine" and the advantages of studying in Düsseldorf.
For those who are in a hurry:
What is the beauty of studying medicine in Düsseldorf?
This question can best be answered by those who are studying medicine with us:
Geared to the medical profession of tomorrow
We offer you a newly designed course of study with a high degree of patient orientation and practical instruction from the first semester!
Our Düsseldorf Curriculum of Medicine, introduced in 2013, was developed according to current research findings and is continuously optimized to optimally prepare our students for their future work as physicians.
interdisciplinary knowledge transfer: In the medical profession, numerous disciplines are intertwined - that's why we always teach the course content coherently with reference to the specific organ system or clinical picture right from the start.
A strong focus on patients and practical training from the first semester onwards - so that you can move confidently and competently in everyday professional life right from the start.
A wide range of options: The medical profession is becoming increasingly multifaceted. We offer you the necessary scope for your individual focus.
In the following video, we explain the structure of medical studies and the special features of the Düsseldorf Curriculum of Medicine:
Community of learners and teachers
As one of the largest locations for medicine in Germany, we pride ourselves on not allowing a mass university atmosphere to arise. From the very first semester, all seminars are held in groups of up to 20 people. This creates a collegial relationship among the medical students and also with the teaching staff.
Support from the beginning
With your studies, a new phase of your life begins. We are aware that this phase is particularly eventful. That's why we offer you support right from the start:
If you would like to get an overview of the structure and content of our medical studies before you start, you can find out more directly on site at our events for schoolchildren and prospective students. Of course, you can also contact us at any time by phone or e-mail or make an appointment for a consultation.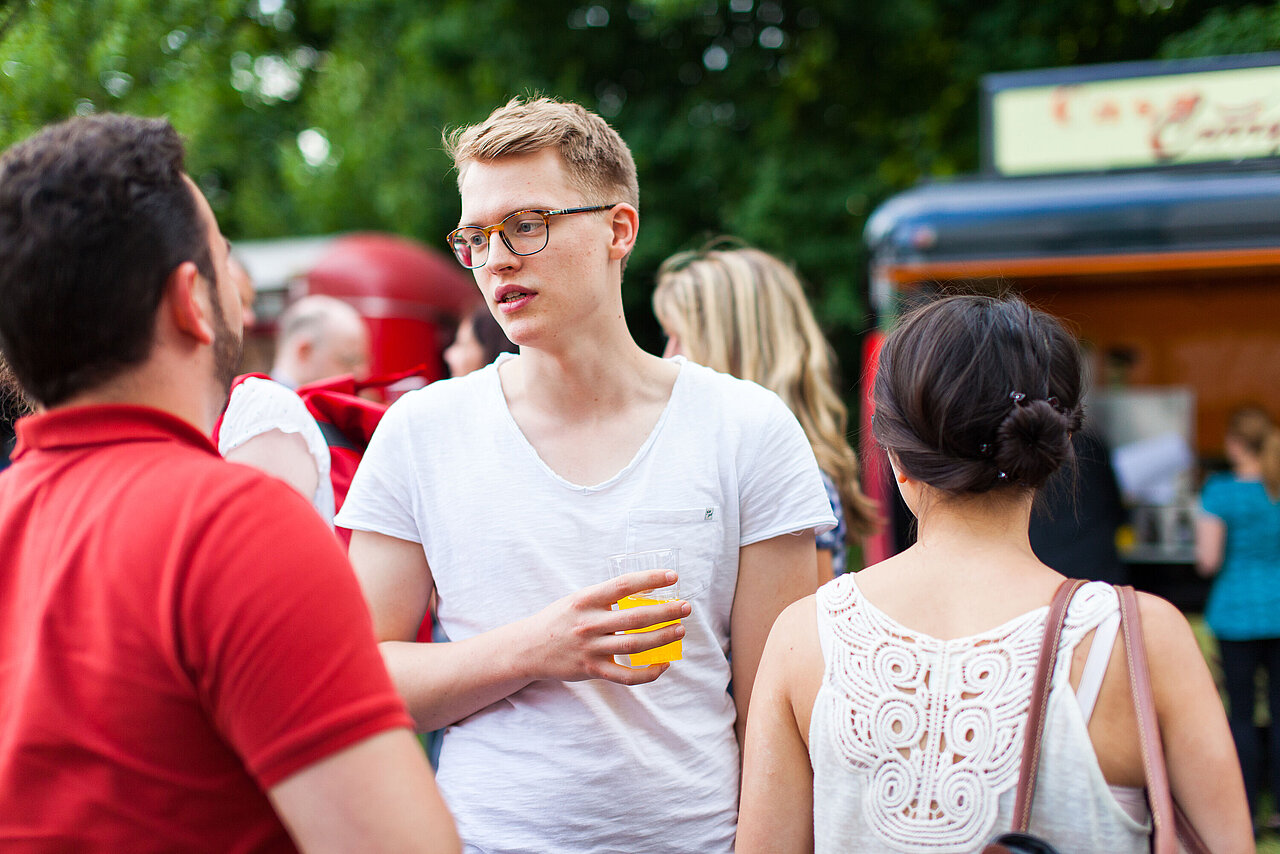 At the Freshers' Week organized by our Medical Student Council, you have the opportunity to get a first insight into campus life before the semester begins. In addition, you get to know your fellow students here - and fun is not neglected...
Not just theory right from the start - Example: Anatomy: Lecture in the morning, practice at noon - Unlike in traditional medical programs, you prepare the bodies of deceased people right from the first semester. This may sound disconcerting at first - so we offer a slow and gentle introduction to such sensitive learning formats. You will be accompanied not only by experienced teachers, but also by student tutors from higher semesters!
The Office of the Vice Dean for Teaching and Study Quality offers you specific contact persons for each stage of your studies and is thus available for friendly and competent advice at any time from the beginning of your studies to your graduation - except at carnival...
Interaction and appreciation
At our faculty, we place great value on lively interaction and appreciation between the teaching staff and you as physicians in training. Therefore, the mutual exchange is also firmly anchored in our mission statement teaching.
Our practice formats promote collegial exchange. They take place in small groups with an experienced physician. Here, it is also important to exchange and develop on an equal footing.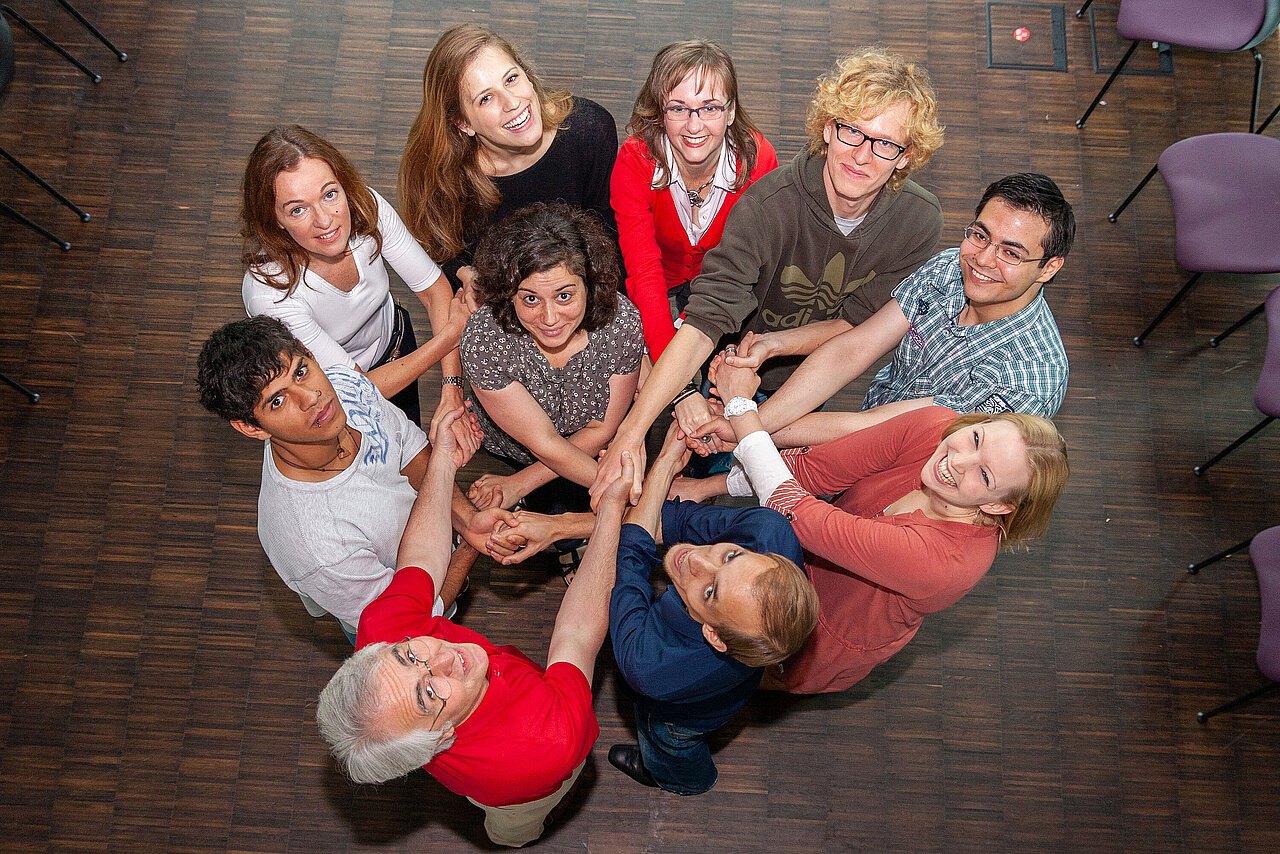 In our A² Mentoring Program, which accompanies your studies, you have the chance to participate from the very beginning. Experienced physicians from our clinics and institutes, as well as from practices cooperating with us, take on a mentoring role and accompany and support their "mentees" on their individual path to becoming a doctor.
Here you will encounter peer-to-peer teaching formats in which students teach other students. Up to the third year of study, some seminars or courses are accompanied by student tutors. Later, you can take on this role yourself and develop your own teaching skills at an early stage.
Student cohesion is of course not limited to the university. The student council organizes regular barbecues and other activities such as the medical choir or university sports ensure a strong community.
Our faculty combines administration, lecture halls, seminar rooms, clinics and institutes on one campus. The short distances between the university hospital and the university are a great advantage, especially for medical students, because you don't have to drive halfway across the city every day.
At the center of these paths is our modern O.A.S.E. for medical students. The eight-floor "place of exchange, study and development" houses learning and work areas, counseling rooms of the student council and the dean's office, a central eLearning room and a cafeteria. A very important part of the O.A.S.E. is also the medical library. In addition to the lending of all important textbooks, it also offers you numerous licenses for learning software and eBooks, which you can also use from home. This way, you can study flexibly and don't have to dig deep into your pocket for your studies!
For those who don't feel like the hassle of commuting between home and university, the Studierendenwerk Düsseldorf offers dormitories right near campus - from there you can get to the seminar on foot or by bike in no time. Even if your admission to medical school comes at the last minute, you don't have to despair: In an emergency, the medical student council will help you organize accommodation during the freshers' week. So no one is left without a place to sleep at the beginning of the semester!
Studying medicine is time-consuming - but thanks to the numerous job opportunities directly on campus, you can easily balance your studies and work. Whether as a tutor for students in younger semesters or as a student assistant directly at a clinic or an institute; the faculty-internal jobs in clinic and teaching offer you the opportunity to work directly at the university while studying and not only earn money, but also gain important experience for your professional future. Simply inquire at the clinics and institutes of the UKD or search for jobs at the university and throughout Düsseldorf in our job portal.
Studying in the heart of NRW
There's a lot more to studying than just studying and going to university. It is important that you feel comfortable at your place of study!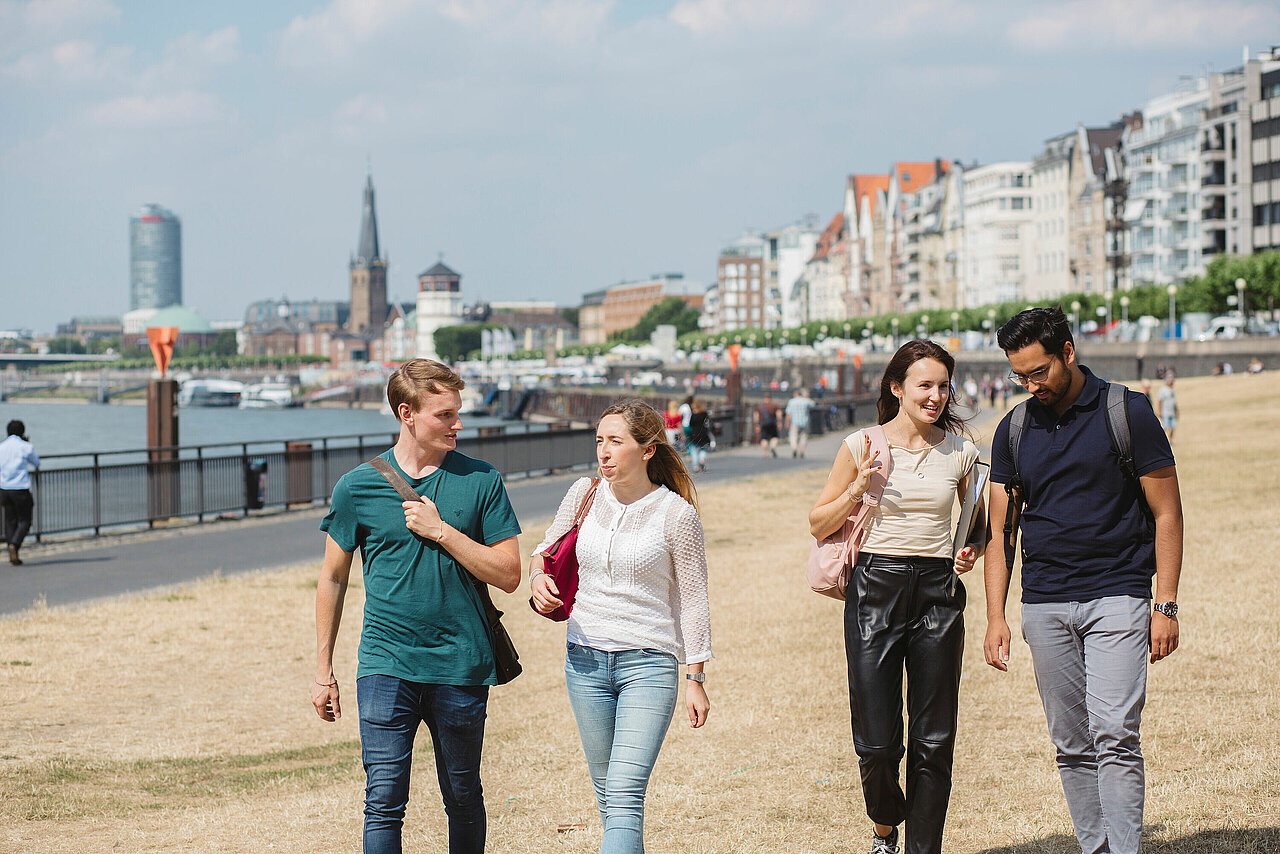 Düsseldorf is centrally located in NRW. Numerous other major cities such as Cologne, Essen or Wuppertal are only a stone's throw away and can be reached by train in half an hour without additional costs thanks to the NRW semester ticket! You can also get to the rest of the world very quickly from Düsseldorf, because Düsseldorf Airport is an important international hub.
As a Rhine metropolis, Düsseldorf is very attractive for students. The city attracts with its cultural offerings, the Rhine promenade, the proven high quality of life and the legendary Rhenish joie de vivre. Not to forget, of course, our beautiful old town, which is said to be the longest bar in the world...